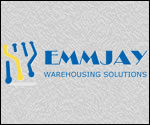 3PL Warehousing Sydney, by Sydney's Emmjay Warehousing solutions, who are a leading specialist in providing efficient third party logistics (3PL Warehousing) in Sydney that includes long and short term storage options for raw materials or finished goods,
Emmjay specializes in all aspects of 3pl that includes, container packing and unpacking, stocktaking and cycle counts,, order picking & packing, kit assembly and reworks and local or national distribution.
There are many benefits to gain by choosing Emmjay Warehousing as your outsourced supply chain solution in Sydney. Our all-in-one solution covers everything you need to store, package, assemble and distribute your goods. Maximise profit and create a competitive advantage through our combined knowledge, resources and professional operations.
Emmjay has been operating successfully as a 3pl provider in Sydney since 2013, offering integrated warehousing and transportation services to streamline your logistical operations. The service is tailored and may include kit assemblies or reworks to fulfil the order for dispatch.
Our Sydney 3PL Warehousing Services can be scaled and customised to meet the changing needs of our clients and the market. Our warehouse will accommodate your storage requirements by tailoring the best fit solution for your product. This may include a special pallet rack configuration, block-stacking, specialised handling, shrink wrapping or other required processing. Our expertise includes the storage and processing of raw goods and finished goods.