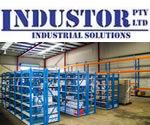 Specialists in the supply and installation of new and used shelving in Sydney, catering for all types of shelving like longspan and compactus shelving servicing the NSW marketplace.
We also stock industrial shelving, office shelving and garage shelving which can be delivered and installed direct from our Sydney warehousing facility. Our new and used shelving supplies are waiting and ready at our warehouse allowing rapid delivery and installation.
Our specialised Sydney steel shelving systems can provide solutions for all your storage requirements within your warehouse, garage, office or even within your retail outlet. All our shelving has the correct AS accreditations meeting Australian safety guidelines.