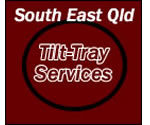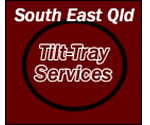 SEQ Tilt Tray Services specialises in transporting your product, or products, up and down the east coast of Queensland and inland Queensland with a professional and reliable service.
With over 30 combined years of experience in the trucking and transport industy we understand the importance of a reliable and cost effective transport service which can work with you for whatever transport needs you have.
Our tilt tray trucks carry up to eleven tonne with another 7 tonne on our flat deck trailer which means we are able to carry heavy machinery, trucks, boats, excavators, caravans, forklifts, bobcats, 20ft shipping containers and 40ft shipping containers, palletised products and much more.
SEQ TiltTray Services is a family run Australian service aimed at providing that special service that you deserve, cost effectively and On Time.
Transporting Services
Qld Tilt Tray Transport Brisbane
Qld Tilt Tray Transport Gympie
Qld Tilt Tray Transport Rockhampton
Qld Tilt Tray Transport Townsville
Qld Tilt Tray Transport Cairns
Qld Tilt Tray Transport Mt Isa
And everywhere in between...
Send Message to listing owner