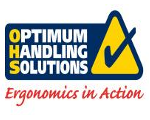 Welcome to ergonomics in action!
At Optimum Handling Solutions we are committed to the promotion of ergonomics and ergonomics equipment in the workplace. If you require specific advice on material handling solutions, let us help you make the right decision.
Whether it to be from our Australian production items or our import lines, we are dedicated to use our industry specific knowledge to provide a materials handling solution to help you:
Increase productivity
Increase workplace safety
Reduce injury and fatigue
Reduce exposure to litigation
Create positive work environment
Lifting, shifting & stacking made easy! If you need to handle palletized goods. Optimum Handling Solutions can help you make the right decision on your materials handling requirement so you obtain the right materials handling solutions.
Send Message to listing owner