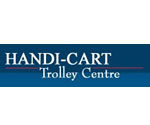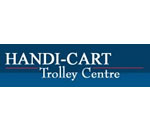 Handi-Cart Trolley Centre is a privately owned Australian family business founded in 1982 by Bevan and Del Lovejoy to market the Hanaoka range of products in Australia.
The family has built a company based on honesty, integrity and a commitment to quality. Handi-Cart is recognized throughout Australia for its services and commitment to our customers.
Handi-Cart Trolley Centre is based at Brendale, about 20 minutes North of Brisbane CBD. As well as marketing the Hanaoka range of products, which includes the Japanese made Dandy trolley range and Hanaoka airport ground support equipment, we also stock a large range of quality materials handling equipment from some of Australia's best known manufacturers. These products include Fallshaw wheels and castors, Viscount plastics manufacturers of Nally plastic products, and a large range of light weight materials handling equipment.
The company's achievements are based on the commitment to supply quality equipment at a competitive price whilst striving to maintain and improve levels of service and customer satisfaction. Our commitment remains, as always, to supply a quality range of products by supporting its supplier and distributor base throughout the market. The Company intends to continue its growth, to maintain the large range and best quality products available, and to constantly seek new and improved products to provide the right solution for an ever-widening range of applications.
Send Message to listing owner